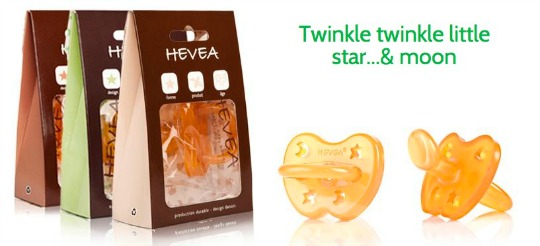 Founded by Terese Hoffeldt, Hevea are makers of a range of eco baby products and they count among their fans Miranda Kerr, Jessica Alba and Alicia Keys. The name "Hevea" originates from the Latin name for a genus of rubber trees, Hevea Brasiliensis. The company are launching an online shop in the UK and were recently winners of the Positive Luxury Blue Butterfly award.
The Hevea range includes pacifiers (dummies, where I come from) teethers, bath toys and accessories.  All Hevea products are made from 100% natural rubber latex, which means you don't need to worry about whether they contain any nasty harmful materials such as PVC, BPA, phthalates or artificial colourings.  The natural make-up of the rubber means that it is soft and gentle for babies.
We were sent the Hevea teether (£8.73 from Amazon) which comes stylishly presented in Hevea's signature giftbox. It is sustainably produced and free from all sorts of nasties. The packaging is made from recycled and biodegradable materials and printed in soy ink, and the teether itself is made from 100% natural rubber.
According to the press release, the hygienic, one-piece design prevents bacteria accumulating in the teether's cracks and joints, while the malleable rubber encourages baby's natural gnawing action, so the gentle textured surface is ideal for soothing and massaging irritated gums.
I can't argue with any of that. The little person we tried this out on fell instantly in love with it and has resolutely refused to be parted with it ever since. She gummed it, she chewed it, she drooled on it and she even tried to eat it. I can't say for sure whether it eased the symptoms of teething but it certainly distracted her from whinging and pulling at her ears, and indeed kept her entertained non-stop for a good hour.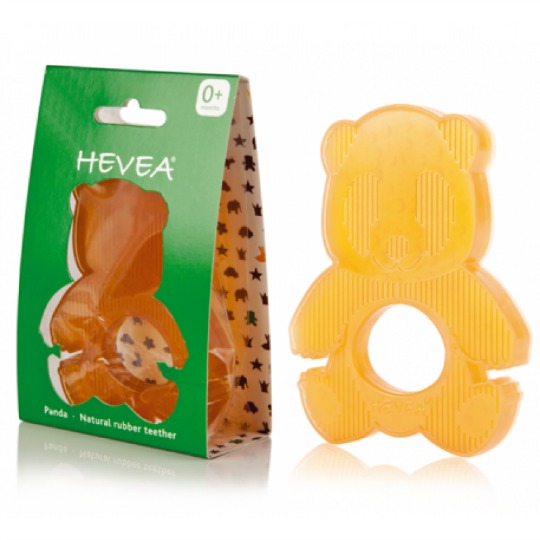 We were also asked to review the Hevea pacifier (£8.46 from Amazon) The uniquely designed ventilation holes in the star and moon design makes this suitable for both boys and girls, while the ergonomical butterfly shape gives space for baby's nose and chin, enabling little ones to breathe easily and preventing a vacuum around the mouth. This is also made from 100% natural rubber latex, making it soft and gentle on a baby's face, and it too comes in a stylish unisex wrapping. It also has a hygienic design which eliminates bacteria, and it's sustainably produced and the packaging is made from from recycled and biodegradable materials, without the use of PVC, BPA, phthalates or artificial colours.
This wasn't such an instantaneous hit with our little tester, but I suspect that's more because it's very different in look and feel from the dummy she usually uses. She happily played with it and gummed on it, but she didn't quite take to it as a dummy, preferring to force it into the mouths of everyone around her or using it to sharpen her emerging teeth! That said, it's a product that I definitely intend to buy for my forthcoming arrival, and while no mum exactly relishes the prospect of giving her baby a dummy, there is something appealing about the very natural and sustainable credentials of these particular ones. I'll definitely be stocking up on them before my due date.
Pros: 100% natural, sustainable and eco-friendly products.
Cons: They're not cheap and look nothing like other teethers or dummies so you won't exactly blend in with the other mums when you use them. (Not always a bad thing!)
Overall verdict: 9 / 10 - a great 'green' alternative to existing products for eco-conscious mums and dads.