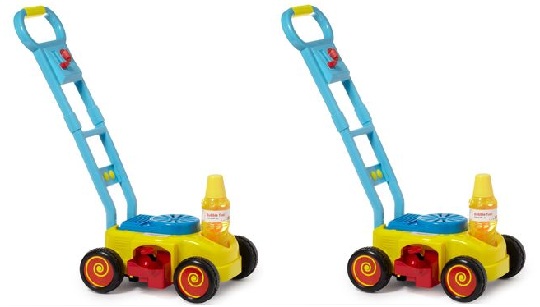 Your children can help Dad mow the lawn and create bursts of bubbles while they do it. The Hamleys Bubble Mower is a really cute gift for the little ones this Christmas and is marked down from £20.00 to £15.00 at Hamleys.
I think this is just adorable and when they see how it works the little ones will love it too. The brightly coloured Hamleys Bubble Mower is the most exciting and magical mower ever. Your little ones will be amazed as they watch the Bubble Mower create hundreds of bubbles in just minutes; all they need to do is push the mower along like the grown-ups do.
The cute Bubble Mower will keep kids occupied and feeling very helpful indeed as they help Dad mow the lawn.  This is definitely a Christmas gift that will have them giggling a squealing with delight when they see how it works. You won't be able to pack this one away until well after Christmas.