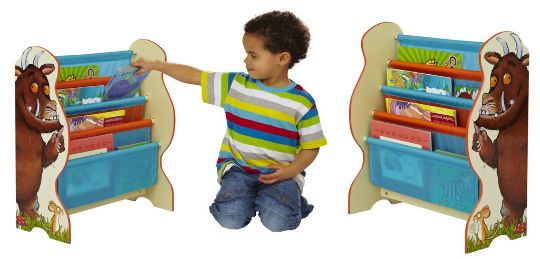 I have been looking for a sling bookcase for my daughter's room for a while now, I have seen lots I like and at decent prices but nothing really different. I have luckily found this Gruffalo Sling Bookcase at Price Right Home and I love it! Even better it is now down to £31.99 with free UK delivery instead of £39.99, perfect for us Gruffalo fans.
This bookcase is made from MDF and is easy to assemble (apparently!) with all of the fixings supplied. There are four fabric compartments which can hold several books of all shapes and sizes. Sling bookcases are a great way to encourage independence in children, they are able to choose their own books and tidy away due to the fact the bookcases are low down and are easy to view with the sling design. I love the Gruffalo design on the sides of the bookcase, completely unisex and perfect for playrooms and bedrooms.
At Price Right Home they also have matching Gruffalo bedroom furniture and storage available. All include free UK delivery, definitely worth a look.