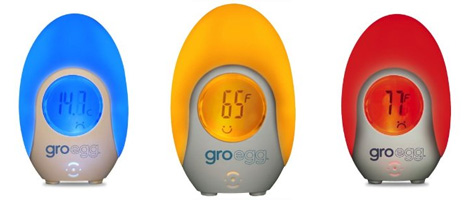 The Gro-Egg Room Thermometer has been 'further' reduced at Amazon to £13.14, including delivery. That's 40% off its usual price, and is the cheapest we've had it on PlayPennies.
I kind of chuckled to myself when I saw this deal, as the Gro-Egg has always sparked differences of opinion both on PlayPennies, and behind the scenes at PlayPennies HQ too.
While Sarah loved the Gro-Egg, Tamsin included it in her list of 8 things your newborn does not need.
To quote Sarah, "It really doesn't take a genius to figure this out but for the sake of clarification: BLUE is too cold, YELLOW is ideal, ORANGE is a bit warm and RED is TOO HOT!  It also displays the actual temperature too and because it's illuminated you don't need to turn the light on to read what it says, I also found it doubled-up nicely as a gentle night light too."
So, that's what the Gro-Egg is: a colour-changing room thermometer to confirm the temperature of your child's room. It features a digital, permanently back-lit LCD screen and is mains operated, so there are no batteries required.
Thanks to londonuk at HUKD.