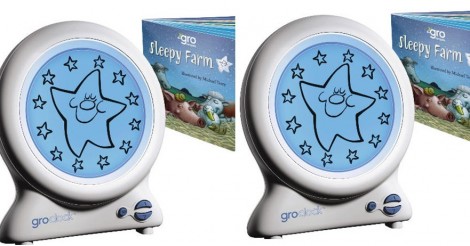 The Gro Clock has been marked down from £19.95 to £17.95 at Tesco Direct. Not an enormous discount, I grant you, but it is a great device as are many of the Gro range of items for babies and toddlers.
The Gro Clock uses fun images of the stars and the sun to communicate to your little one when it is time to get up, and when it is time to go to sleep. I am seriously thinking of getting one of these as my offspring has decided (thanks to the early sun in the morning) to wake up just shy of 6am every day.
The Gro Clock ticks the stars out one by one during the night to show the passing of time. You can set two separate wake-up times – one set for the week and one set for the weekends – to make your life a little bit easier.
The new version of the Gro Clock (which this is) has a new feature that allows parents to choose whether or not to display the digital clock during the usual stars to sun countdown.
Thanks to pinkmexican at HUKD!