Graco Mirage Travel System £90 @ Asda Direct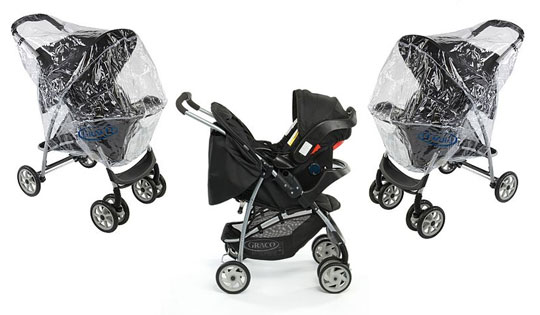 If you're on the prowl for a full travel system that isn't going to require taking out a second mortgage to fund, then you should get yourself over to Asda as fast as you can - they're selling this Graco Mirage Travel System for a mere £90, which is a bargain compared to some!
I had a travel system when my youngest son was born and, although I never really enjoyed pushing any of my children around in pushchairs etc, I have to confess it was rather great and made going out and about dead easy.
This Graco Mirage Travel System is suitable from birth to around three years.  It's very light, small and neat, and easy to carry.  The car seat clips onto the top (that was the best bit about having a travel system for me - car seats are really heavy if you have to carry them for any length of time!) and there's a basket underneath the chair - that has a play tray and cup holder - and it comes with a rain cover too.
It's got rave reviews, here is just one of them, to help you make a decision:
I recently purchased this item for my daughter. we have tried and tested many different Travel Systems . My daughter chose this model its light weight everything you would need for baby, it also comes with rain cover too so you dont have to shop around for one to see what fits.  It's a practical colour and has one hand easy collapsable lever Its BRILLIANT and a great price too - what more could you want for you money!
You can collect your Graco Mirage Travel System, for free, from your local Asda, or you can pay various amounts for various speeds of delivery: standard, which takes between three and five days, will cost an additional £2.95.
Thanks to hukd1816 at HUKD