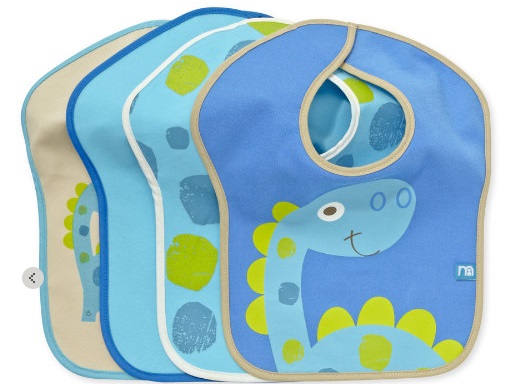 For members of My Mothercare, there's an apparently amazing sale starting this week, so if you're not a member, rush over and sign up. If you are a member, keep an eye on  your email. For the rest of us, there are some regular sized savings up already, like the four-pack of dinosaur bibs for £2. Click and collect is available for free, though home delivery will cost you an extra £2.95.
Have fun at mealtimes with our playful dinosaur bibs. These cheeky characters will help make mealtime fuss-free. They are extra wide and waterproof backed for additional protection.
Apparently these have extra wide shoulder coverage, which is useful for messy eaters and waterproof backing for heavy droolers. The soft towelling is good for delicate skin and there's easy simple velcro fastening. They have a two year guarantee too, though I have no idea what that really means for bibs.
One of the owners of these over on HUKD says they've seen heavy use for 10  months and are still in 'reasonable' condition, so that's not bad for £2.