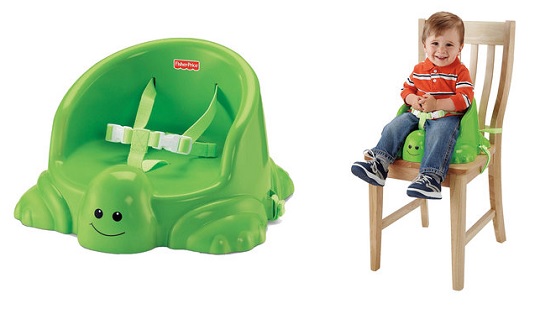 This seriously cute booster seat is currently half price at Toys R Us. The Fisher-Price Turtle Booster Seat was £19.99 but is now £9.99, a lovely £10 saving.
Having dinner together as a family around the dinner table is really important to many families. Whether dinner is an occasion around the table every night in your family or whether this only happens now and then you'll want the young ones to feel that they are part of the family too. They'll need a booster seat to be able to reach the table properly and join in.
The Fisher-Price Turtle Booster is really cute. It's bright green and is great to encourage toddlers to stay in their seats at meal times. The adorable happy turtle has tall sides to support toddlers and make mealtime loads of fun. The long straps and non-skid feet keep the seat firmly in place so toddlers can come out of their shells around the table with the family and enjoy themselves.
Enjoy those fun mealtimes!