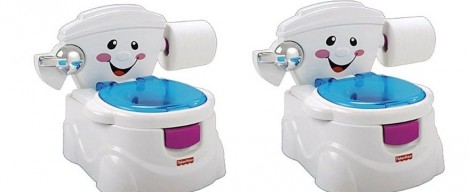 I bought one of these ace pottys for my daughter when she hit the age of toilet training and it was actually a huge success. Usually retailing for around £36, this Fisher-Price potty has been reduced to £22.99 at Amazon including free delivery. A good deal for an ace training toy.
The Fisher –Price My Potty Friend has a singing toilet roll, two different kinds of flushing song , and all sorts of helpful parental extras. What is truly ace about this potty is that it entertains the kids while they are sitting on it.
Some kids just don't sit down and wee immediately, then they get bored and stand up, and then they wee on your carpet/floor/couch instead. This chap keeps them occupied and takes their minds off the process. It encourages them to wee and rewards them when they do with a happy little tune and a hearty "Well done!".
While I found that the sensor was a bit too sensitive (it would yell out WELL DONE before she had sat down sometimes) it is a great device. You can use it on a regular toilet, the batteries lasted forever (3 AA) and it can be adjusted for use on a regular toilet.
Thanks to millarcat at HUKD!