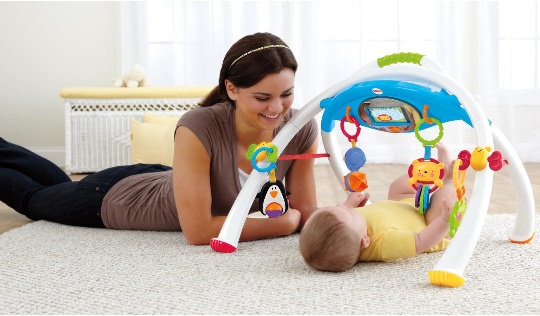 Parents can use their Apple iPhone device to interact with this baby gym. The Fisher-Price iPhone Apptivity Gym has been reduced to £14.99. It was on Amazon for £34.99.
This could be quite a bit of fun, or just maybe a bit odd. I guess it depends on how well you can function as a new parent, how creative you are, and whether you have the time. When my son was a few months old I was just about up to shaking the monkey hanging from his baby gym, rattling its little bell to make him laugh. Not sure I could have got myself to do something like actually operate an app.
A playful gym designed to allow mum (er why mum? why not dad? how about dad and mum?) to completely customise interactivity for her baby. Designed to house your iphone or itouch overhead, so you can select from a variety of Fisher-Price apps designed to interact with the gym toys.
Or, you can choose to play any of her own content from her device for baby (music, family photo slide shows, videos etc.) When you decide to take your iphone away from the gym, baby still has a large playful mirror overhead.
Additionally, the gym comes with four linkable toys: Lion with clackers, Roller ball penguin, Frog with colourful beads and paddle wheel bird. For added play there are two additional fun bat-at toys attached to the two front legs.
Rubberised feet provide added stability and a convenient folding feature allows the gym to fold completely flat for easy storage and portability. iPhone 3Gs, 4 and 4S, iPod Touch 4G. Apple products not included.
Thanks to xposure at HUKD!