Fisher Price Rainforest Melodies And Lights Deluxe Gym For £54.99 @ Baby City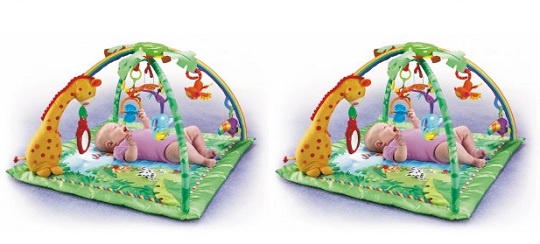 Go have a look at this gorgeous baby gym from Baby City. The Fisher Price Rainforest Melodies and Lights Deluxe Gym was £59.99 but has now been reduced to £54.99, saving you £5.00. It's far from cheap but you have to see it, it's beautiful.
The Rainforest Melodies and Lights Deluxe Gym by Fisher Price is guaranteed to keep your child entertained whilst they continue to develop their motor skills and core senses. The soft padded play mat has a bright and bold, colourful design featuring cute, friendly illustrated animal characters. The removable gym arches can easily be attached with the fabric arch holders and include many hanging activity toys, specifically created to encourage your child's curiosity and development. In the centre of the gym arches lies an electronic unit, which can be activated to play up to 20 minutes of sounds or music, along with four coloured lights which dance accordingly.
All of these features combined make sure the Fisher Price Rainforest Music and Lights Deluxe Gym will be adored by your little one for many months of play and learning.