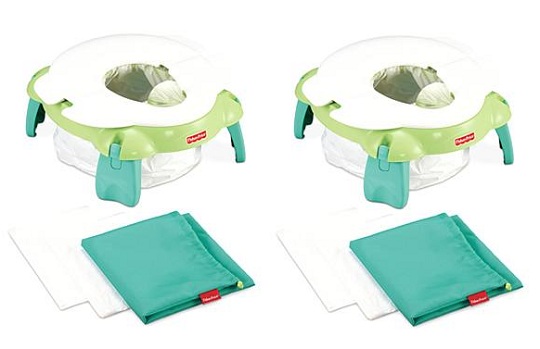 Save £3.00 on the Fisher Price Two In One Portable Potty From Kiddisave. It features a combination portable potty and potty ring. This convenient portable potty normally retails at £19.99 but Kiddisave have it on offer for £16.99.
This really useful two in one combination potty let's Mum keep training easy as she goes out and about town or as the family travels. Potty training is so important and you don't want to get caught out without anything and have the toilet experience turn into a drama. This potty has a full potty chair that uses standard small kitchen bags for collection, plus it features folding legs so it can tuck away easily in the car or a bag, absolutely perfect for travelling or even just a day out.
For shopping trips or play dates, there's a potty ring so toddlers can use public toilets with a ring sized just for them. This makes going to the toilet easier and it's more sanitary for them.