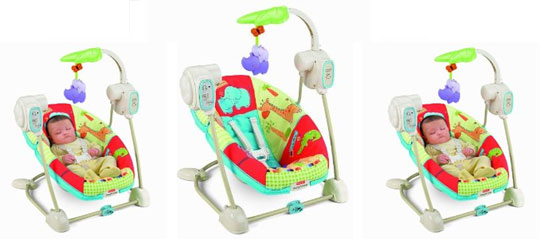 Amazon are currently selling this Fisher Price Luv U Zoo baby swing and seat for £59.49 instead of the full £84.99.
If you're expecting a baby soon then firstly, congratulations!, secondly if you haven't got a baby seat or swing yet then you might want to take a quick look at this Fisher Price Luv U Zoo seat.
As far as I'm concerned a baby swing/baby seat is an absolutely essential piece of newborn baby kit, you very quickly find out that they love motion and that you can't carry them around for every single second of the day.
The Fisher Price Luv U Zoo baby swing and seat is also going to be great for you if you're short on space, or don't want something huge dominating your house, as it folds up when you don't need it.
It has various swing and music functions and can be adjusted to the size of your baby right from the day they're born, the cover is machine washable and you can convert the swing to a seat when you need it to be static.
If you want this in time for Christmas you're going to have to pay for delivery now, the last day for first class option is today and for express delivery you've got until the 23rd December.
Happy Christmas swinging!