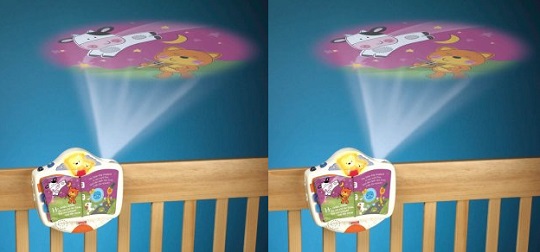 Save a lovely £9.00 on this really cute accessory for your baby's room. The Fisher Price Discover and Grow Nursery Rhymes Projection Soother was £42.99 but is now £33.99 at Baby City.
This cool baby soother attaches to the baby's cot and brings your favourite nursery rhymes to life with eight colour projections and up to 20 minutes of music to soothe your baby. While lying in his or her cot your baby can enjoy Hey Diddle Diddle, Hickory Dickory Dock, Twinkle Twinkle Little Star and Rockabye Baby, followed by a lullaby and classical music. It's perfect to help get little ones to sleep.
Parents can join in the bedtime stories as each turn of the page changes the images projected onto the ceiling, or you can use the handy remote control to start the story without disturbing your baby. As your baby grows and develops and learns to sit-up, he or she can activate the stories himself with the simple turn of a page.