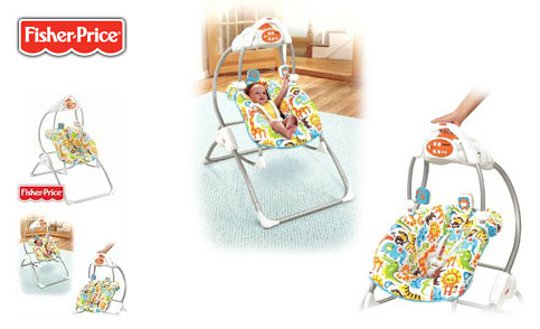 Home Bargains are selling this Fisher Price 2-in-1 Swing Rocker chair for £54.99, rather than £109.99.
I don't know whether I buy the £109.99 full retail price, and I certainly wouldn't buy it for that price - £54.99 is much more realistic.
I like items that can multitask, they always make me feel that I'm getting much more for my money. SO, first of all, this Fisher Price 2-in-1 Swing Rocker is a swing with a deep comfy seat, five different speeds for variety and lots of songs—16 if you want to be precise - which will soothe your new baby.
Then when you'd prefer a baby rocker seat, you simply grab the handle with one hand, unlock the safety latch and lift the seat out - apparently it really is that simple - and VIOLA, you've got an rocker seat, rather than a swing, for your baby to rock in.
If you've got a Home Bargains close by, you can pop along and collect your Fisher Price 2-in-1 Swing Rocker for free. Otherwise, cross Home Bargains' palm with a couple of extra pounds and they'll drop it off to you instead.
Happy swinging and rocking!