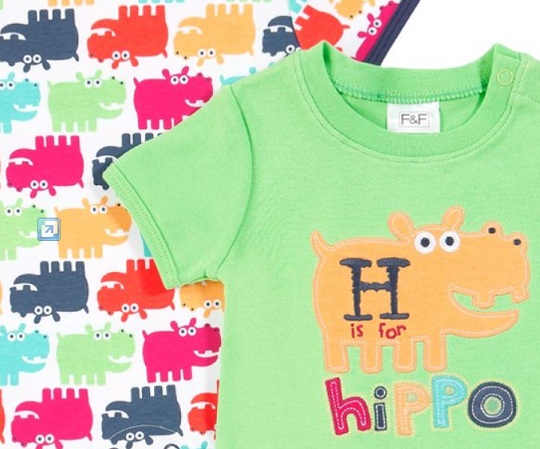 These little Hippo romper suits, with hat, are just about the cutest thing I've seen this week. They're availabe in tiny baby, early baby and newborn baby sizes. Just the thing if you've had an arrival yourself, or are looking for a gift for one. Tesco has reduced the price of these romper suits by a little more than half price. They were £9 and now they're £4. Delivery is free if you can arrange for collection in a store. Which is preferable unless this is part of a bigger shop, as standard delivery is £3.95 - nearly the same again as the romper suits!
With babies born at this time of the year (as my son was) I remember you just can't have enough of these little short sleeved, shorty romper suits. And the best thing about newborns is that you put something on them like  a hat and they're not as capable of getting it off (they will though!).
The year my son was born we had a MASSIVE heatwave. It was in the mid to high 30s every day. My poor baby was fit to bursting from the heat, and on the very hottest days I went down to the train station, and jumped on an air conditioned train and just rode it up and down the line for a while! Yet I saw so many babies out there covered from head to toe in layers and layers. And the number of complete strangers who told me off for not putting socks on him. One woman even came up and pinched his feet - to see if he was cold. The cheek!
H is for Hippo, and this set will keep your little one looking as cute as a button any day of the week. One romper is finished in a solid colour with hippo applique image and lettering and the other is detailed with a multi-coloured hippo print. The co-ordinating fisherman style hat will look perfect worn with either for a complete look. The suits have a crew neckline and press stud fastenings on the inside leg and shoulder.
Thanks to wadjet at HUKD!