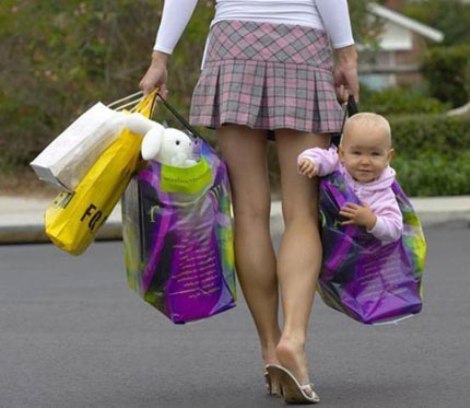 Clothes.  Baby equipment. Toys. Thingamajigs. These are all necessities for parents and yet they can really add up to the GDP of a small African country when you first start stocking up for baby. Or sorting out your kids seasonal wardrobes. Or just doing your monthly shop.

They grow so fast. One minute that dress fits perfectly and the next it looks like a t-shirt. I know that I've made more than one emergency run to the nearest Tescos to get an outfit in time for some event because her party dresses are all too small. I also know that I've spent a lot of time worrying about how I'm to afford some or other unexpected necessity.
If you're not Suri Cruise and rolling in designer gear and parental money, then there are some fabulous money saving options out there. I've scoured the internet and the brains of other clever parents to find some of the best ideas for getting everything you need for your kids without breaking the bank.
Free Stuff!

Not only can you get free goodies from the many freebies we discover on PlayPennies every week, but you can also get free cots, bottle warmers, clothes and so forth from sites like Freecycle. To get in on the action you only need to register with the Freecycle in your area and then monitor the posts for the items you want.
You can even get rid of old tat that you have lying around your home. We managed to find someone who wanted to take our broken office chair off us! There is, literally, something for everyone on Freecyle.
If this isn't quite your cup of tea, a newbie called Freegle has sidled onto the scene. It works in pretty much the same way as Freecycle but it may give you more area coverage and more people. In both systems, if you want something desperately you can post a wanted message and someone will hopefully get in touch.
Hot Tip: Take the time to find out more about the item you want to collect. You don't want to get all excited about a free cotbed only to get there and discover you've landed a revolting, mouldy splintered wreck. Most people are more than happy to give you images and details.
Nearly New!
Now this is a fantastic resource that I've really benefitted from. After spending a mere £20 I've walked away with enough clothes to keep my daughter in outfits for a year. Thanks to generous relatives and fast growing babies, many of the clothes you'll find at these nearly new sales are brand new, or barely used.
The National Childbirth Trust runs hundreds of nearly-new sales every year and you can find your nearest one here. These are not only a great place to find used clothes and baby goods, but also new friends and neighbours.
Sadly the NCT doesn't have a widespread range and so there may not be a sale anywhere near where you live. This is what happened to Rachel D'Cruze and so she decided to start her very own version called Sell it Mama that not only gives you the opportunity to buy and sell clothes, but donates proceeds from the events to charity. You can open your own stall for £25 (its £45 for commercial businesses) and get rid of all that junk in the attic. It's a steal! (see what I did there?)
Hot Tip: If you don't have enough clothes to start your own stall or afford the cost, why not team up with a bunch of mums in your area. You can either split the proceeds down the middle or donate everything you make to the charity of your choice.
Borrow It!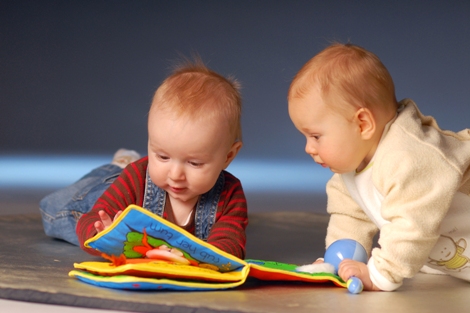 If you aren't able to buy tons of toys, or just don't want them lying around every corner in your house, then a toy library may be exactly what you need. The National Association of Toy & Leisure Libraries offers a wide range of toys on loan for a nominal fee (sometimes for free) and play sessions for children and parents.
The toys are all good quality and many of them are suited to children with special needs too. You can borrow toys from the library to take home, or you can spend some time on their premises enjoying the toys, meeting new parents and giving your child time to play with others.
While we're on the subject of libraries...I know this may seem stunningly obvious but have you been to your local library lately? Many of them have undergone impressive transformations over the past few years and offer so much more than just books and a quiet spot to read.

You can teach your children basic computer skills on provided equipment, join in fun sessions for children once a week, take out all the latest children's books for free (some libraries don't even charge you for late returns on children's books) and parents can spend happy hours mooching through the different sections while their kids happily entertain themselves.
Hot Tip: The library has to be the best place to go on a dark and dreary day. Nab a ton of books and abscond to the nearest coffee shop together for a cuddle and a read or just stay and play until you feel like going home. Time your visit to coincide with your local library's children's hour.