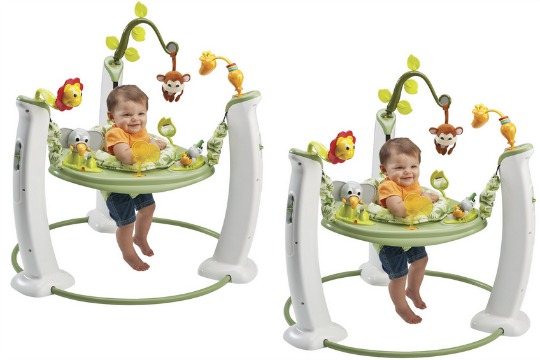 The Jumperoo by Fisher Price are super popular among us parents but it comes with a hefty price tag. You can expect to pay £60-£80 for one so I have been on the lookout for an affordable alternative. The Evenflo ExerSaucer Jump and Learn Activity Centre is only £49.99 including FREE delivery at Amazon, sold by seller Thril. You may be reading this thinking you don't want some rubbish replica, but this is most definitely not that. This Activity Centre was selling for over £1oo at High Street retailers. Just look down the right hand side to get it at this amazing price.
The Evenflo Exersaucer Jump and Learn Activity Centre boasts over fifteen fun learning activities. Baby is in a safe, stable environment when in the activity station, but will still supervision. Baby can bounce up and down just like with the Jumperoo but can also turn 360 degrees. This is a great feature.
This looks just as bulky as the Jumperoo and I don't think it folds down, so you would need space for it. It's suitable for babies aged four months old through to when they are walking and the seat is height adjustable to enable this.