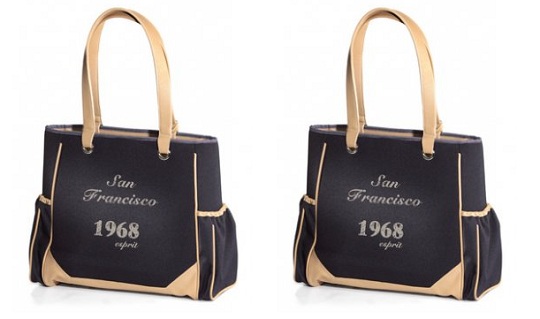 Save a super £40.00 on the beige and blue Esprit San Francisco Changing Bag from Baby City. This neat and trendy changing bag was £79.99 but has now been marked down to £39.99.There are some really cool extras with the bag to make sure you have everything you need when you're out and about with the little ones.
The Esprit San Francisco 1968 Changing Bag in Beige and Blue is designed for the fashion conscious. With its retro style and leather carry handles it can easily be mistaken for a luxury handbag rather than a changing bag. The removable changing mat has a transparent, plastic zipped pocket attachment which is ideal for storing disposables.
The bag itself features 3 pockets on the outside and one main storage compartment inside. This compartment is lined with 7 storage pouches and one zipped pocket, perfect for organising all your baby's accessories (and yours). This changing bag also comes with a cleaning cloth, a baby bib and a small mirror which is attached by a strap. The outside of the changing bag has an 'Esprit San Francisco 1968' logo, beautiful.