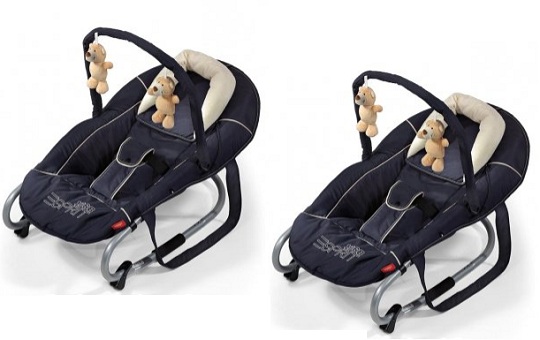 Save a lovely £32 on the Esprit Route '68 Bouncer from BabyCity. The stylish Bouncer was £69.99 but has now been reduced to £37.99, almost half the price.
The Esprit Baby Bouncer come in navy or brown and is suitable from birth up to nine months, or 9kg. It has a thin, yet strong aluminium frame, emphasising high durability whilst remaining lightweight and easy to carry. The rocker bars, which can also be locked into place, have a smooth motion to engage and sooth your child. The seat itself is softly padded on the back and sides and comes with a three point harness for your child's safety.
The Navy Route '68 Baby Bouncer by Esprit also has an extra padded headrest ideal for new-borns which can then be removed as your child grows. Hanging off the toy bar, are two plush teddy bears which will help entertain your child whilst also encouraging play skills and interactivity. The fabric and stitching is of high quality and also removable for machine wash. The Esprit Baby Bouncer also has built in carry handles, making it effortless to transport.