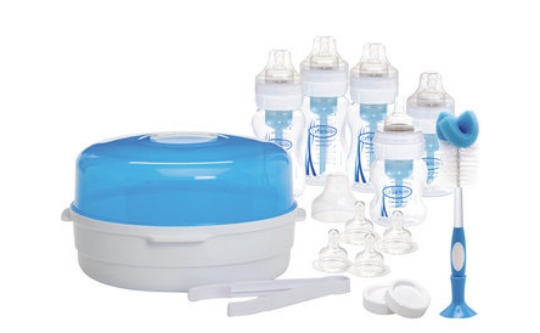 Toys R Us have a great deal on this Dr Browns Newborn Gift Set at the moment. It's currently £33.33 which is already significantly cheaper than elsewhere but with this voucher code you can get a further £5 off, bringing the price down to £28.33.
This set includes a microwave steriliser with tongs, 3 x 240ml bottles, 2 x 120ml bottles, 2 x level 2 teats, 2 x level 3 teats, a bottle brush, and 2 x travel caps.
Just enter the code 9908080969990 and a further £5.00 is taken off bringing the price to £28.33. This is also offered with free standard delivery (3-4 days).
I think this is a great idea for a practical baby gift. We've been deluged with gorgeous gifts for our new baby and it's the practical ones that you really appreciate!
With thanks to mummyskel @HUKD.