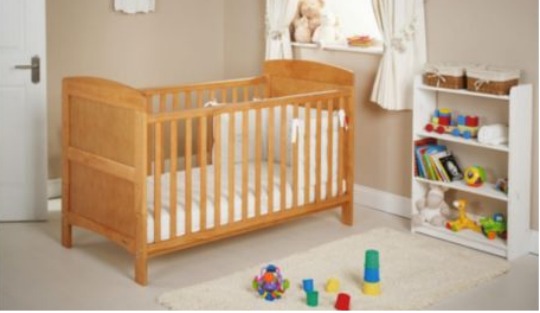 Tesco have several promotions running at the same time on Baby & Toddler items, and with a little bit of luck you can combine the offers to get pretty big discounts to get everything you need for the new baby!
The main way to save is to use the Baby & Toddler e-coupons:  TDX-HGRW gives £20 off when you spend £100 on Baby & Toddler, and code TDX-PYHX gives £50 off when you spend £250. Both of these codes can be used Baby & Toddler items in the 50% Off Sale and the Save 20% Off Kid's Furniture offers. ALSO Tesco offer Free Delivery on Baby & Toddler orders over £29.99. Take advantage of all three offers at the same time and you could make a great big saving!
Click here to shop Baby & Toddler @ Tesco*
Discount: £20 Off £100 Spend or £50 Off £250 Spend
Valid on: Baby & Toddler sold by Tesco only, not from partner sellers.
Expires: 13/01/15
Code: TDX-HGRW  or TDX-PYHX
One example is nursery furniture: The Obaby Grace 4 Piece Cot Bed Set includes a cot bed, a mattress, a quilt and a bumper - all for £139.99 delivered using these codes! It comes in a variety of wood finishes, and the bedding has different colour choices too, 12 different combinations in all. There are cheaper cot beds around, but as a package with the mattress and bedding this is great value - the cot bed on it's own is £109.
There are lots of examples of items already on offer that you can also use these e-coupons on, but it all depends on what you need for the little ones! If you start from the Baby & Toddler link then everything in that section will be eligible for the e-coupon savings, and each item tells you in the description which other promotions are also available on the item. Hopefully you get something like the image below, which is from the Frozen Toy Box for £24: