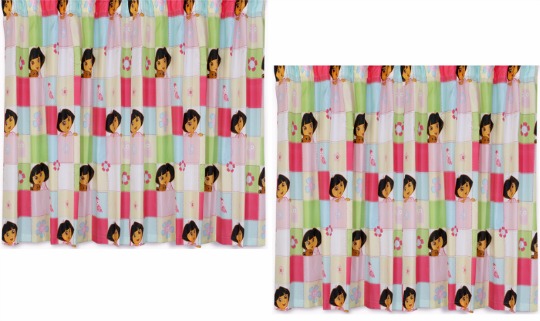 Looking for some curtains to brighten up your little one's room? They don't tend to come cheap but we have found a super bargain over at Price Right Home. The Dora the Explorer 'Buttons' Curtains are from just £3.99 a pair. Price Right Home offer FREE delivery on all orders too, so you can bag a pair of curtains for under four quid delivered. That is seriously cheap!
The Dora the Explorer 'Buttons' Curtains come in two size options: 66" x  54" (168cm x 137cm ) at £3.99, reduced from £18.99 and 66" x 72" (168cm x 183cm) at £4.99, reduced from £21.99.
These curtains are multicoloured and feature a Dora the Explorer pattern all over them. You get two curtains per pack, they are made from 100% microfibre making them machine washable. You can also tumble dry them on a low setting.
They are a pencil pleat fitting so you can use a curtain pole or track.
If you know a little Dora the Explorer fan, then these curtains will go down a treat. Why not have a look around the Price Right Home site? They have oodles of bargains and always offer that FREE delivery service.