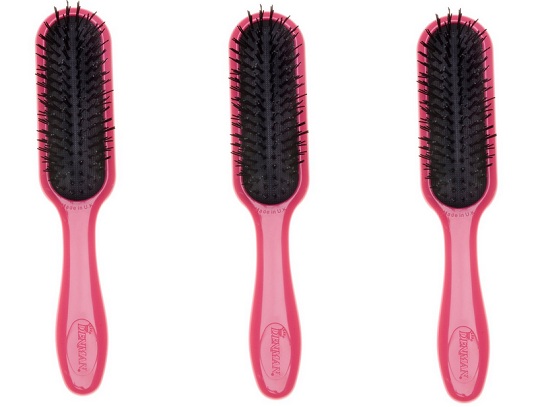 My daughter has long, fine and very curly blonde hair which is, as you can imagine, really hard to keep knot and tangle free. She only need wear it loose for ten minutes and already there will be some scary knots and lumps forming. So, when a friend of mine bought me the Denman Tangle Tamer hairbrush, I was really pleased.
The tangle tamer is on sale on Amazon* for £5.95 at the moment (you're saving 5p, which I find quite funny) and comes with the free Super Saver delivery. You can get it in Pink or Black. Now we've had our Tangle Tamer for a really long time now and I've held off on writing this review so I can compare using it to a bog-standard hairbrush.
The brush has super-soft nylon bristles that sort of stick out at different angles. I imagine that the principle behind this is that they don't grab the hair in one jerk so there is less pain as you brush. I have to admit that brushing her hair with this brush is easier. A lot easier than a standard hairbrush. With this brush there are far less tears and drama with knots and tangles.
You will still have to wrestle with the big knots – this Tangle Tamer is not a miracle worker – and you will have to painstakingly work through the tough tangles, but overall the brush pulls less and hurts less than a normal hairbrush. When we forgot our Denman Tangle Tamer on one of our holidays I tried to use my hairbrush, it caused so much drama that I ended up brushing her hair out once and keeping it tied up for three days!
I've ended up sharing her brush and have just ordered a new one thanks to its comfortable brushing and the fact that it's dead easy to clean. An easy 9/10.