There are some things about expecting a new arrival in the home that more than make up for the sleepless nights and discomforts of pregnancy, and one of these is conceptualising and creating the nursery.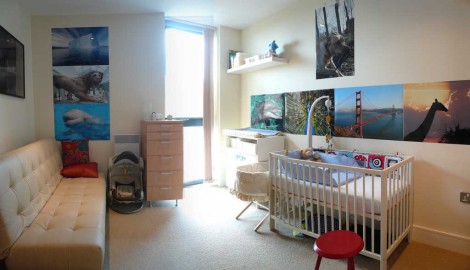 While decorating and preparing a nursery for a baby is a necessary expense there is no need for you to spend a fortune on it either. Corners can be cut without it looking cheap or falling apart after three months of use.
The first things you need to do are sit back and think about what kind of nursery you want to create and set aside an exact budget. Whether you've decided to wait and see what sex your baby is, or if you've found out already, there is so much choice out there.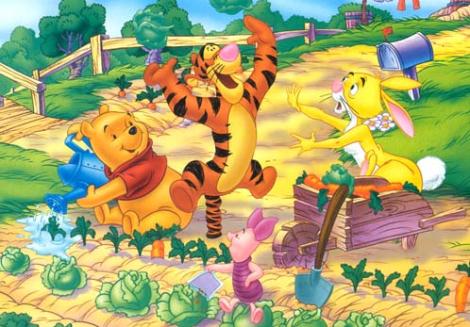 Do some research and really look into what designs or themes appeal to you. Some parents aren't keen on thrusting gender specific colours onto their offspring. Fortunately the rest of the world is starting to catch up with this more modern way of thinking. From wall paper to wall coverings to patterns to posters, you'll soon be buried in options.
Winnie the Pooh is wonderfully neutral, appealing to both boys and girls, and Mothercare has a huge range of co-ordinated sets in soft natural colours and designs. Take some time to search online for advice on what colours work best in certain spaces and how to make a space look bigger.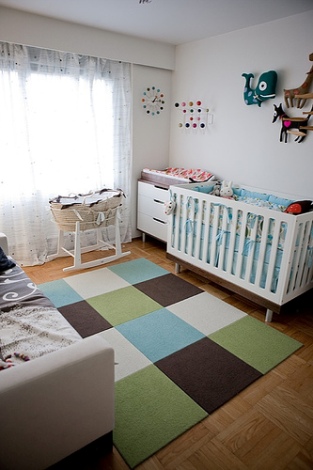 There are even colours that can affect your child negatively or positively. Red is an example of a negative colour, not in itself but rather when used extensively in a nursery. It's not peaceful and, according to experts, it's a stimulating colour. You don't want to put your baby to sleep in an evironment that wakes them up and fills them with energy.
Soon you'll have some idea as to what colours or themes or characters you want in your nursery so now is the time to get it without going over your budget. It's also a good idea to draw up a list of the Must Haves, Want to Haves and Dream Ofs.
The first set will be things like cot beds, changing stations, storage, blackout blinds, a small sofa and so on. The Want to Haves will be the essentials but with trimmings so, for example, you want a cot bed but you want it in teak with engraved flowers. The Dream Ofs would be new carpeting instead of a large rug or new hard furnishings that aren't essential to the baby.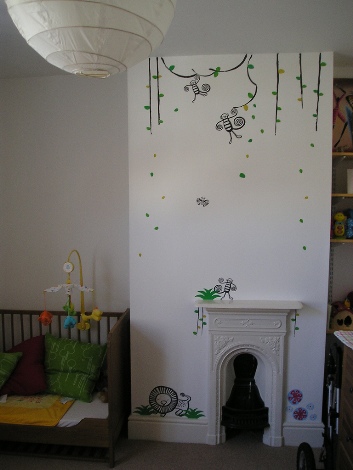 Instead of wallpaper or expensive shop-made borders consider doing your own stencils. Grab the stencils you need from cheap art and craft shops like Wall to Wall Stencils. You'll need to practise a bit before you head on over to your nursery walls, but it isn't that hard to do and you have the added bonus of refining your colour choices.
If you have any friends with artistic talents ask them to draw on the walls for you. There is nothing cooler than unique and original artwork in a nursery, especially since they can be as imaginative as they want. Don't forget to take photos!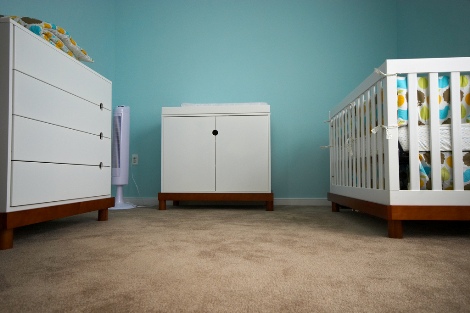 Paint the walls yourself using quality paints at good prices. Visit our sister site HotUKDeals to find excellent offers on painting supplies and snap them up for your nursery. You don't need to paint all the walls either (unless you need to, of course) as more modern nurseries have one or two bright splashes of colour complemented by wall borders and paintings. This will also save you on paint.
If you have hardwood floors or raggedy carpets then it's a good idea to invest in rugs. Rugs are far cheaper than wall-to-wall carpeting and you can go wild with colours and designs. Those of you with hardwood floors really should consider a large rug as baby won't like learning to crawl on hard surfaces, nor will the floor absorb sound and keep the room nice and cosy.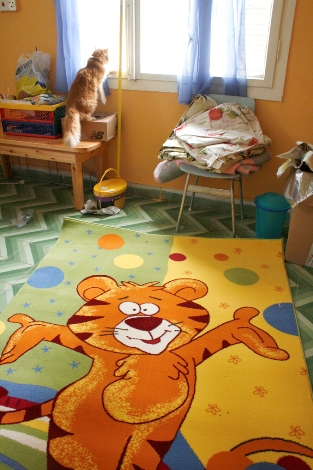 Ikea, eBay and stores like Rug Zone have cheap and cheerful rugs that will cover most of the hard floor space. Newborns love black and white patterns and toddlers love fun designs with riotous colours. Have fun choosing these!
If your designated room lacks storage then consider getting wall mounted shelves. Children's books are stunning to look at so your shelves can double as artistic beauty as well as a place to keep things from being eaten or stood on. There are a huge range of these available at stores like Ikea or RapidRacking.com.
You can even place toys in between baby essentials like wipes or blankets to create that showroom feel you get in many large retail stores. In fact, many a good idea can be stolen after an amble through a retail store selling nursery goodies.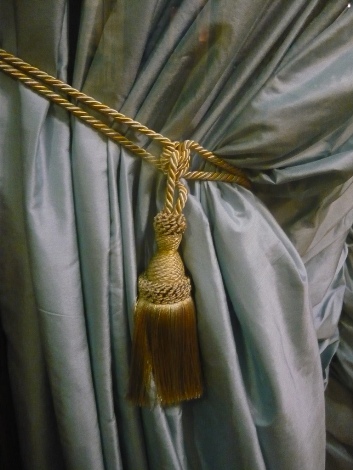 Save on your curtains by buying plain fabric curtains without lining, some ribbons, some hooks and a blackout blind. The blackout blind will do the work of the lining for you, and do a much better job of it as well. Stitch the ends of your ribbons to tidy them up and then use them as tie-backs for your curtains. Measure them and then insert the hooks for them to sit in. These ribbons can be your nod to your theme, for example Winnie the Pooh printed ribbons with lemon yellow curtains.
Hopefully these ideas will inspire you and save you some money as you begin the exciting journey of planning and creating a nursery. As you progress keep asking yourself if you can make it, or do it, yourself and then give it a try. It will surprise you and the result will satisfy you even more.