Teething babies. Parents will stop at nothing to find a solution to help soothe sore gums. But have you ever considered that a teething necklace might be the answer to your teething woes?
I thought my luck was well and truly in when Playpennies told me they were sending me the Crown Jewels to review. Turns out the Queen's bling is safe after all. I was being sent a teething necklace made by a cleverly-named company called Crown Chewels.
However, this product is not cheap by any means - we're talking £65 for a necklace that your teething baby can chew on - but by the time I had finished reviewing it I was a total convert. Read on to find out why...
UPDATE: We have an exclusive Crown Chewels voucher code for 20% off the entire Crown Chewels Collection until end of May.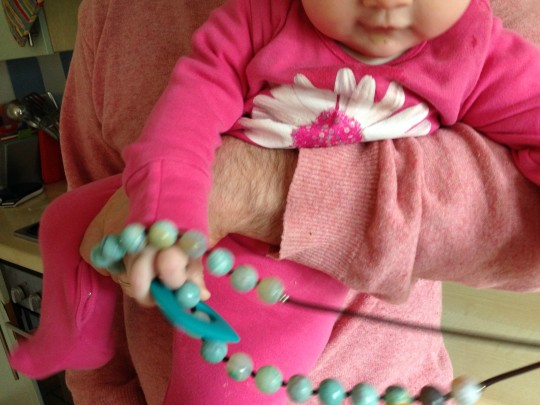 In fact I reckon this is one of the most original and yet practical gifts you could possibly buy for an expectant mum, although it's obviously best suited to a let's-club-together budget, such as a baby shower pressie from a bunch of friends or a gift for an office colleague about to go off on maternity leave. I doubt many of us have £65 to spend on one fairly luxurious item of baby gear but if I did, I'd consider every penny well spent on one of these.
Incidentally, did you see that article about the top ten list of most useless baby buys that did the rounds on Facebook recently? I disagreed with it wholeheartedly - my baby bouncer is one of my all-time most prized possessions - but if I were writing a top ten list of items worth investing in, I would absolutely include a Crown Chewels teething necklace as a must-have item for any new mum.
Crown Chewels makes baby-chewable, non-toxic necklaces designed to have the living daylights sucked out of them by teething babies.
Here's how they describe themselves:
"Crown Chewels was started by a fashionable mum who had to stop wearing her collection of stylish accessories when her baby was born. Her little one could not get enough of playing with every necklace or bracelet. Not wanting to settle on wearing boring teething rings, she decided to start a line of fashion accessories that would keep her and other mums looking great but would be enjoyable for baby as well."
These aren't even just necklaces that are safe to suck; each necklace actually has at least one non-toxic, safety-tested silicone teether incorporated in its design, but they look like an 'ordinary' statement piece of jewellery; to the untrained eye you'd never realise that it's a teething necklace, so you don't feel like a prat for wearing it. In fact I felt uncharacteristically stylish whilst wearing mine.
We were sent a 'Grace' necklace which features semi-precious faceted agate stone beads strung together on a leather cord with a movable turquoise teether. My little one adores this, and as she is developing and becoming more dextrous she can entertain herself for ages by seeing how far she can move the teether around my neck. She also loves to 'gum' the beads which must feel very cool against red hot, teething gums.
The Grace necklace is considerably heavier than the sort of jewellery I tend to wear though, so while I would have happily worn this every day on the basis of how much my baby loves it, I found it a little too cumbersome for daily wear. But they also sell lighter, more delicate necklaces like the Guinevere (pictured immediately above). It's also cheaper, at £45.
And even though I don't necessarily wear this every day, I do make sure it's in the nappy bag so I always have it to hand. It has definitely become one of those 'don't leave home without it' items, and even my older children are quick to seek out the 'magic teething necklace' when they spot that baby's especially drably or fractious.
I also love having this to hand when my baby starts reaching for someone else's jewellery, as she is apt to do. You never know what nasties or choking hazards might be in the average bangle or necklace, so it's great to be able to distract her with this instead of letting friends and family hand their bling to my baby. I love that you can clean this easily, too, simply by rinsing it with water and mild soap.
Crown Chewels also sell £20 gift vouchers so if you fancy one of their teething necklaces but can't justify the price-tag, you could always try asking for a voucher or two as Christmas or birthday gifts. You know how much I like my price-per-wear point when it comes to considering the longer term value of pricier purchases, too. Well consider this: if you wore this every other day (so for half of the year) it would amount to a 'cost' of 35pence per wear. Not too shabby.
Pros: My baby loves our 'Grace' Crown Chewels teething necklace with a passion that you wouldn't believe. I can't think of a single other item of baby gear (except perhaps her beloved blanket, and her big brothers…) which she has such an attachment to, or which keeps her entertained for so long.
Cons: Some of the chunkier necklaces are a little on the heavy side if you're not a statement jewellery person, but they do sell delicate alternatives, so choose carefully.
Overall conclusion: I am exceedingly glad that we don't have to send the Crown Chewels teething necklace back now that our review is over, as I am certain that my little teether (who still hasn't yet cut her first tooth at 8 months old!) couldn't bear to be parted from it. And, I hasten to add, I am pretty seriously attached to it now, too. I also think it'll make a lovely keepsake item to continue wearing (or store away in a treasure box) when she's way past the point of sucking on my jewellery!