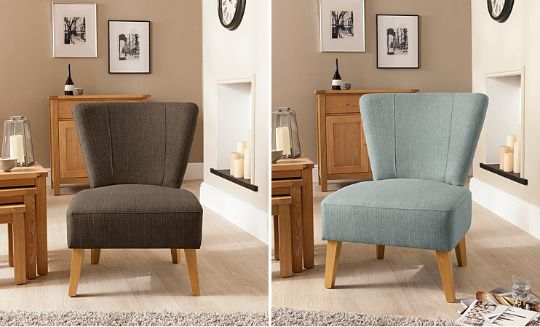 I love this chair. I don't know if it's the expensive look, the choice of colours, the fabulous price, or the fact that it's a chair for drinking cocktails! Whichever it is this is an absolute bargain, and if you want one I would get one quickly.
This Cocktail Chair was selling for £79 at Asda George, but now has a massive £30 reduction making it £49. You also get free delivery on upholstery at the moment by entering the code DELFREE at the checkout.
There is a choice of 6 different colours, so it's likely that there's one to match your colour scheme. These are Charcoal, Chocolate, Duck Egg Blue, Beige, Lime and Mauve. I think I like them all, and although they may not be to everyone's taste they are all fairly neutral.
The reviews are all amazing, with almost all being the full 5 stars. They say it's comfy, easy to put together, and looks much more expensive than it is. One reviewer was so impressed that they ordered a second one.
I think these chairs are a hell of a bargain when you see how much they are elsewhere, and I fully expect them to sell out, as for some reason the Asda George website always does in super quick time!
Remember to add that code DELFREE to save any delivery charges as well.