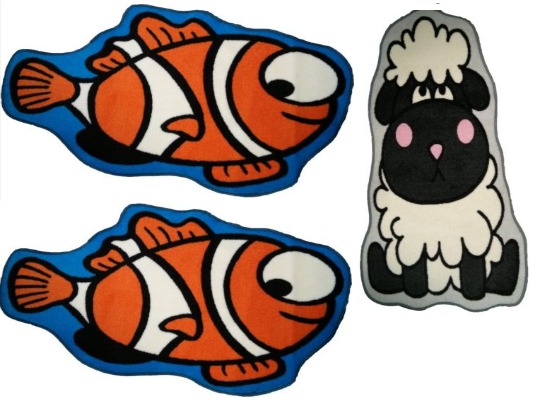 Want to brighten up your little one's room but have but have a really tight budget? We have found a solution...head over to eBay and you will find reputable seller premierdropshopuk are offering Kids' rugs for just £6.99 with FREE delivery to boot. These are very colourful and fun. There's a choice of two - a Clown Fish or a Woolly Sheep.
The Clown Fish/Woolly Sheep Kids' Rug/Playmat is actually a very reasonable size for the money. It measures 105 centimetres by 50 centimeters.
These are not just good for brightening up bedrooms and playrooms but are good for those of you with laminate floors. My kids get sore knees after a while so rugs like these are good for providing a soft surface.
I think these are just fine for those of you on a budget. When it comes to my boys' rooms, I certainly don't fork out £££'s because before you know it, it's covered in pen or crusty with Play-Doh.
The seller states that if you are unsatisfied with your product then you can return it to them at your own cost. I guess that is reassuring.