Childrens Wooden Table & 2 Stools £29.99 @ Argos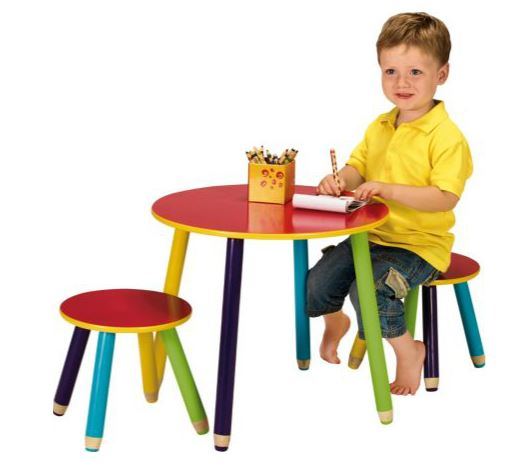 Argos have a sale on Children's Wooden Table and Stools, on offer for £29.99. They say it's reduced from £74.98 which I can believe because I've spent four years trying to find the 'perfect' children's table and chair set, but they are also available on eBay for £39.99.
We had a similar set of children's chairs - the whole pencil effect - but they had an accident and both chairs broke - no fault of the chairs, fault of the adult who abused them! I couldn't bare to throw the cute pencils away so we dug holes in the garden and now they decorate the children's play area. It's rather cute, and has given the chair legs a second life.
The children were thrilled too because they loved their pencil chairs, and at least now they still get to enjoy them, though not as chairs.
According to the blurb, the sturdy MDF table and stools is ideal for drawing, colouring or eating at. I must agree! A kids sized table and chairs has made dinner time a lot easier in our house.
It comes flat packed so there's a bit of DIY involved, but how hard can it be to screw some chairs together. I love it.
Thanks to littlemiasmummy at HUKD