Children's Convertible Desk & Chair £14.99 / £15.99 @ Argos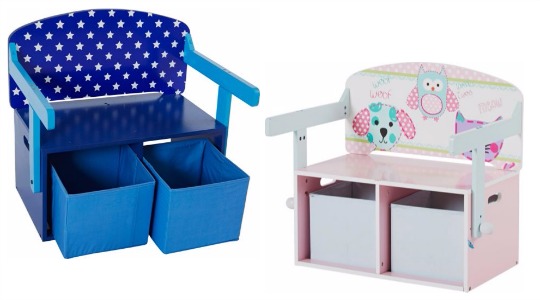 Is it a bench or is it a desk and chair? It is both! The Children's Convertible Desk and Chairs in Stars and in Creature Friends have the ability to morph from one to another. This looks like a brilliant piece of furniture for any little ones bedroom. What's even better this that both designs are reduced from £49.99. Creature Friends is down to £15.99 and the Stars one is even cheaper at just £14.99.
When you have limited space in your home, pieces of furniture that have multi functions are a Godsend. These really do convert with ease from a bench with toy storage underneath to a desk with built in seat. They both come with two fabric storage boxes.
The kids can use it to draw, paint, do homework or to just sit and watch television in their room on. Whatever they choose to use it for it's a nifty piece of kit.
You can Reserve and Collect the Children's Convertible Desk and Chair for FREE from an Argos store as they are currently out of stock for home delivery.
Thanks to s1i  @ HUKD and  Sophie on Facebook