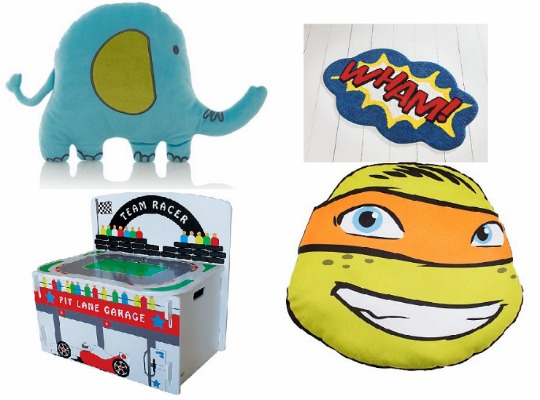 Needing to spruce up your Child's Bedroom? Head on over to Asda George where you can expect to find lots of bargains. There are cushions, fleece blankets, toy boxes and so much more, all with money off. Some have as much as 50% off, so be quick or you will miss out. Think stocking fillers... some of the items would be ideal. What are you waiting for?
Brighten up your little one's room with these tremendous bargains: George Home Wham Rug* was £9 now £4.50, Elephant Rug* was £9 now £4.50, Heart Rug* now £4.50, Teenage Mutant Ninja Turtle Lined Curtains* was £20 now £9, Rocket Cushion* now £3.50, Owl Fleece Blanket* now £2.50, Owl Cushion* just £3.50, Wham Cushion* only £3.50, Teenage Mutant Hero Turtles Cushion*now £3.50, Superheroes Fleece Blanket* only £2.50 and Elephant Cushion* now £2.50.
These George Home Lightshades were £6 and are now only £3. Available in Football*, Space*, Circus*, Owls*, Hearts*, and Superheroes*.
You can Click and Collect your Children's Bedroom bargains for FREE from an Asda store near you or pay £3 to have them delivered to your door.