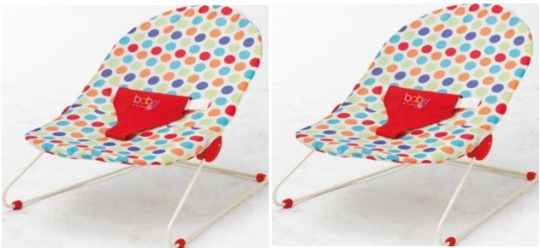 If you are after a no frills cheap baby bouncer then check out this Chad Valley one from Argos. It was £14.99, then £8.99 and now it's only £6.99. Argos have certainly been churning out the bargains lately.
The Chad Valley bouncer is suitable from birth up until your baby weighs 9kg or can sit up unaided. The seat cover is easily removed and can be machine washed at thirty degrees.
Okay, so this doesn't have a vibrating function or any fancy gadgets but neither did the Cosatto one I bought for my baby. I just lightly bounced it with my foot.  The bright design is stimulating for little peepers. If you have a moany little baby then honestly these are just the ticket to get them to dose off.
Stock is aplenty of these across all of the United Kingdom. They are fine for having at Grandmas or for keeping at a friends. My local baby/toddler group has a few of these for little ones to play in.
You can collect the Chad Valley bouncer free from any Argos store or pay £3.95 to have it delivered to your door.