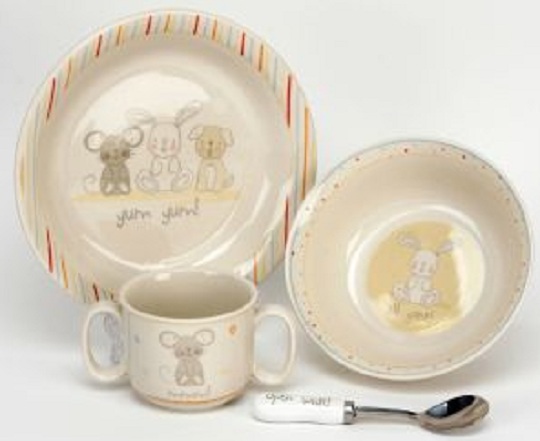 Get this sweet ceramic baby set including bowl, spoon, mug and plate from Argos for only £14.99! Previously marked at £19.99 that's a welcome saving of 25% - PLUS Argos will deliver to your door for free!
My nephew is being christened in a couple of weeks and I've been racking my brain trying to come up with a gift that he'll use. Porcelain Bunnykins sets are lovely but will never be used in a house full of energetic boys who think they're Zorba the Greek as most meal times their plates end up on the floor.. Then I found this little nugget from Argos! Ceramic (so it'll bounce when thrown!) and featuring a cute design of a bunny, mouse and puppy I reckon I'm on to a winner! It's dishwasher safe (can't tell you how many plastic plates Ive thrown away after the Princess peels off after a wash in the dishwasher!) and suitable for little hands and at only £14.99 I'm sold!
So if you're stuck for a gift check this out – not only are you saving 25% but you'll get a mug, plate, spoon and bowl that'll be used and loved for years.