Caboodle Bags EveryDay Changing Bag Review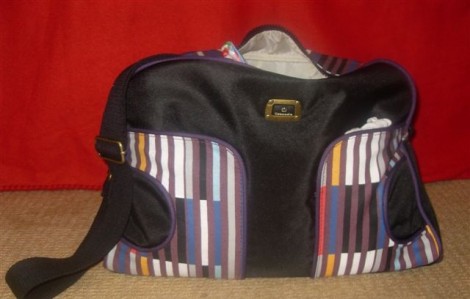 Here at PlayPennies we firmly believe in the benefits of a good change bag. It might be a regular bag you adapt to the use, or it might be specially bought for purpose. But whatever you choose, getting one that is right for you will save you so much in time, money and comfort in the long term!
That was the advice passed down to me from my sister and I spent a long time picking out my change bag. There was nothing as nice as this in the £30 range back then though!  I kept it fully stocked and to hand where ever we were - indoors and out. I always knew where to find nappies, rash cream, bottles, dummies etc!
I gave the Caboodle EveryDay changing bag to PlayPennies mum Kim (mum to 15 month old) and here's what she found.
Kim's Experience
When I first found out I would be getting an EveryDay changing bag to review from Caboodle Bags I was over the moon. During that week I had just been complaining to my mum that I couldn't get all my necessary baby essentials into my current changing bag. I had been using a Boots changing bag that I got free when I joined the parenting club and there was just not enough space to fit everything in.
The Caboodle Everyday bag retails at £30 (standard delivery is £4) and it is available in lots of different designs. Currently on the Caboodle Bags website they stock the bag in Grey Stripe, Purple Stripe, Beige Stripe and Retro Red.
I'll be honest - I would never normally contemplate paying £30 for a changing bag but after having used this one I would definitely think about doing so now. The bag has an abundance of pockets and sections and zipped compartments...I love it!  The bag is a very good size at 16" wide x 11" high x 7" deep (or 41 x 28 x 18 cm).  The large size means I can comfortably fit everything in it I need for a day out plus room for extras.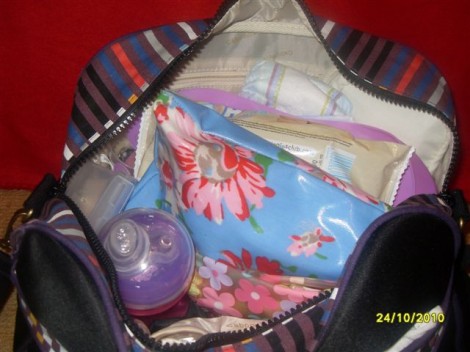 I was sent the purple stripe bag (which you can see in the photos). I'm not a stripes kind of girl...I'm more a polka dot fan. However this bag design has grown on me...not least because everyone who sees it says how lovely it is and they are all really jealous!
Here is a list of the bag features:-
On one inner side of the bag there is a zipped pocket, which conceals a mobile phone pocket. This is great for keeping your keys and phone in.
There is a removable insulated bottle bag, which Velcros on to the lining to keep it in a handy place. The insulated bag does up with a zip and it is spacious enough for a wide necked bottle (I had my Yoomi bottle in there).
There are 3 sections on the inner side of the bag. These are really deep sections and they are perfect for stuffing full of all your essentials. In mine I have put a packet of tissue, a pot of Vaseline, a muslin cloth, a bottle of paracetamol, plus much more. These pockets are great and a real selling point. They are wide enough to get your hand in to pull things out after you have packed them in.
The bag has a firm base, which means that it stands up on it's own -  just what you need from a changing bag as you always end up standing it on the floor when you are trying to get little one in to their car seat or pushchair, etc.
This has an outside zipped section that is ideal to keep more bits and bobs in. I keep my bibs, spoons and baby snacks in here.
There are two deep pockets on the outside front panel of the bag.
This comes with a well padded fold-up travel changing mat that is wipe-clean. I wish I'd had a padded mat like this when my daughter  was little. The ones I had were so thin and didn't protect her from the hard floor I had to change her on at baby clinic.
There is a separate small plastic zip up pocket that I use to store my daughter's reins in. This would be handy to put dirty bibs in, etc.
A wipe-clean lining.
Great quality heavy duty zips. The top zip fastens from both ends, which means that if you have something bulky in your bag that needs to poke out of the top of the bag then  you just fasten the bag from both ends and voila!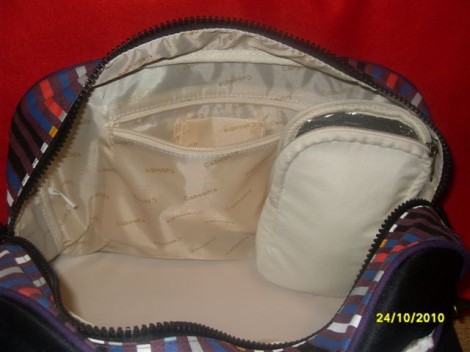 The bag has an adjustable heavy duty canvas webbing strap that can be extended to be worn right over your body. I found this feature invaluable as it meant I could comfortable carry the bag and my daughter at the same time. Another great thing about the extendible strap is that you can get the straps to the right length to hang over your pushchair handles. The strap is attached to the bag with lovely metal fastenings and there is the Caboodle logo on the front of the bag. Great for letting people know you have a posh bag!
The bag has been used in the rain and I love the fact that it doesn't get particularly wet. I used to have a suede type material changing bag from Graco and that wasn't good in the rain.

The bag I received was from the EveryDay range but they also have 3 more changing bag ranges. There is the Fun and Funky range, the Classic range and the Active range. There are some gorgeous polka dot bags in her Fun and Funky collection which really appeal to me. They also sell Welly Bags which are designed for storing your wellies in so that your car boot doesn't get dirty. The Welly Bag also has a separate pocket for storing your map, hat and gloves in,etc. This bag sounds like a great idea for the winter months. I haven't seen or tested one but the idea sounds good.
And Finally ...
Overall I would highly recommend this bag if you are in the market for buying a changing bag in expectation of  a new arrival or if like me you are struggling with the lack of space in your existing bag. At £30 it is good value for money for a great quality bag that will really last. You can buy other brands of changing bags for nearly 3 times this price but there is really no need when this one does everything you could want.