Buy Three for the Price Of Two @ Boots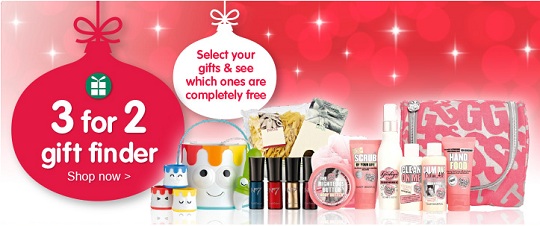 This is awesome. Go Christmas shopping at Boots and get three for the price of two. All you do is select from their wide range of gifts and they automatically remove the price of the cheapest gift at the checkout. Neat
Not only is this deal going to save you loads on Christmas gifts this year but it's actually quite fun.
Step 1: Select the gift
Step 2: Add the gift to your basket
Step 3: The viewer shows you which one is free (or which ones if you are buying more than three gifts)
Selection of gifts is quick and easy with the gift finder and there's a huge range of gifts to choose from. The gifts are also categorised by who it's for, price, brand, gift type, toy type and clothing type. So if you know what you're looking for it's really simple. Even if you don't know what you're looking for it's easy to browse through the categories that interest you. Thank you Boots for making Christmas shopping so easy and affordable this year!