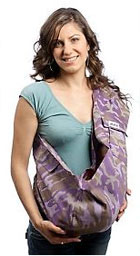 Did you see one of our recent Celebaby video posts with the baby sling dancers?  No?  Well go HERE, have a look-see and then come back for a GREAT half-price baby sling deal.
Back in the day when the big kids were babies, baby slings were of the wear-em-like-a-back-to-front-rucksack-strap-em-to-your-chest variety and that was pretty much it.
Either that or HUGE great metal-framed monsters that looked like they could double-up as a survival tent if you ever got caught out in a freak storm somewhere along the highstreet!
Baby slings of old are now having to compete with the new slings-on-the-block and they are FABULOUS!
Bubzilla slings are  made in Australia from 100% soft cotton drill so you can be assured they are durable and of very high quality, leaving you to go 'hands-free' whilst keeping your baby close, safe and comfortable.
The Bubzilla  fabric is 145cm across, making it the widest sling on the market - this means the load is spread further and reduces stress on your back and shoulder. It can be worn seven different ways and when not in use it folds up very small and can be easily put in a bag.

Bubzillas are sized to the wearer, so make sure you pay attention to the size chart on the Boots page and get the right one to fit YOU.  They also have their own website with instructions and video guides to help you make sure you get the positioning right; marvellous!
Thanks to wishihadadonkey over at HUKD!