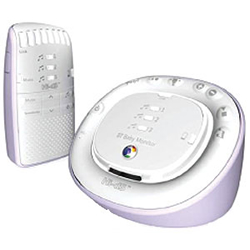 A baby monitor is one of the most important things for any new parents to buy. I cannot recommend enough that you invest in a good one, and this monitor is coming in at a great price on Amazon.
Currently selling at £49.99 @ Argos, the price of £32.99 at Amazon is impressive indeed.
When you get a baby monitor there are a couple of things that you really need to look for. When I got my first one I made some rookie mistakes so here are a few tips to get you going.
Like the BT 100 here, a baby monitor needs to be both mains and battery powered. While you may not be living in a mansion, you will want to go outside to have a barbeque or hang up the washing without panicking about where to plug in your monitor.
I also approve of the sound level indicator LED – when you're listening to music or watching TV that's one sure fire way of seeing if the noise is your child or the movie. What's also pretty impressive for such a reasonably priced unit is the parent talk back function, the night light with adjustable brightness and the 300m outdoor range.
This even comes with a belt clip, out of range warning, rechargeable batteries and great quality sound.
Looks like a great buy.