 Toys R Us have got this nice little Bruin Swift Stroller on offer at half price! 
Tavel system, sling or stroller?! There are so many ways to ferry your little one around it can be tricky to know which way to turn.
Each has their own merit but for me, it was the stroller that became king and got used and abused the most. They're lightweight, small and can be easier to manouevre around town than their big Range Rover equivalent travel system cousins.
Toys R Us have reduced the price of this Bruin Swift Stroller from £99.99 down to £49.99.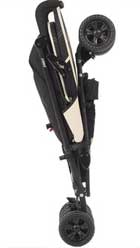 It comes with a hood that has an observation window in the top so you can see through to your baby (or toddler), shopping basket and rain cover and has a four reclining positions. It also has front wheels that swivel and can be locked, on rough terrain you'll be glad of this feature.
It's suitable for little ones from birth to about three years old 3 years (or 15kgs) and it's folded dimensions are: 30 (l) x 28 (w) x 105 (h) cm
There are various delivery options but standard delivery takes up to four working days and will cost you £4.95.
Thanks to phillyboy over at HUKD!