As you know, here at PlayPennies we are all about doing things without spending a ton of cash. We want to make and do beautiful things on a budget and, as Royal Baby fever goes into insane overdrive, we step back and take a look at lovely ways to make a baby shower into something special without spending a fortune on the gifts and entertainment.
If you happen to be hosting the event, don't go out and spend tons of money on the cakes and treats. And don't make them yourself unless you are already a baker and have most of the ingredients already lurking in your kitchen. Sometimes the time and cost involved in creating heavenly cupcakes and cakes is far more expensive than just popping round to the Co-Op or Sainsburys and grabbing their ready-made ones.
These are often on special so you can take advantage of a two for one offer and even get a cake for a much lower price than usual if you happen upon it a few days before its expiry date. I know this sounds terrible, but actually they don't taste any different from when they are a week before expiry and the money you save can go into making cute invitations or getting the mum-to-be a lovely gift.
Next up you need to ask yourself if you are going for a theme. I find that these tend to get people giggling and having more fun than if you are just sat around eating cake of paper plates and opening gifts. Also, I think the days of pretend poo in nappies are done. Now is the time of inspiration and creativity.
To save on the costs of setting everything up for your theme, why not ask all the invitees to make something that fits the theme and that they can bring with them. We did a Teddy Bear shower the other day and held a picnic in the garden – the Teddy Bear's Picnic – and I asked one lady to bring teddy bear napkins, another was an exceptional baker and she brought teddy bear biscuits, and another went out and brought teddy bear shaped balloons. I had everyone arrive earlier than our mum-to-be and by the time she got there an entire garden had been transformed into a wonderland of teddy bears and picnic items.
The money I spent on the food was also controlled by following deals and discounts on sites like PlayPennies and HotUKDeals. Honestly, I managed to get extra buns and cold meats and salad items for far less than usual by taking advantage of sales and discounts and voucher codes. They do take time to find and use, which can be a bit frustrating, but generally the money saved is worth it.
Then take to the internet to find ideas for making really stunning baby shower gifts without spending much cash. One of my favourites is from The Frugal Girls where a lady suggested taking empty baby food jars and filling them with homemade bath salts. You can then personalise these with little messages either stuck to the jars or curled up inside for mum to find when she uses them. It's such a cute idea! You can even get discounted bath products that are on sale and empty them into the baby food jars instead of making your own if you prefer.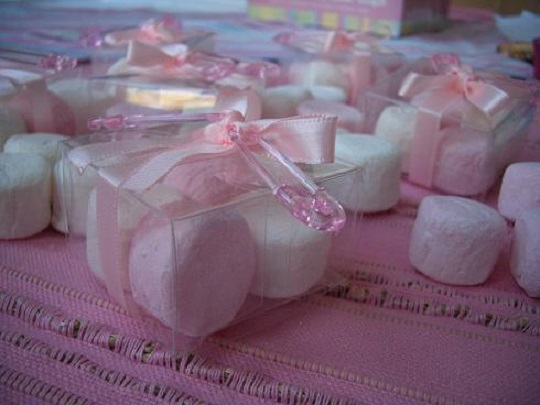 I love the idea of making your own nappy cake or baby clothing flowers. You can find lessons on how to do this on the wondrous world of Google with plenty of how-to videos that will get your creative juices flowing. Honestly, I now want a ton of people to fall pregnant just so I can make some of these! You can get the various bits of baby clothing needed for this at fantastic prices if you stay on top of the latest sales and promotional codes. At the moment a lot of baby stores are offering discounts in celebration of the Royal Baby so it's a good time to go and buy stuff for your party.
Now all you need to do is get everything ready and make sure that everyone is coming. That, for me, is always the most stressful part…