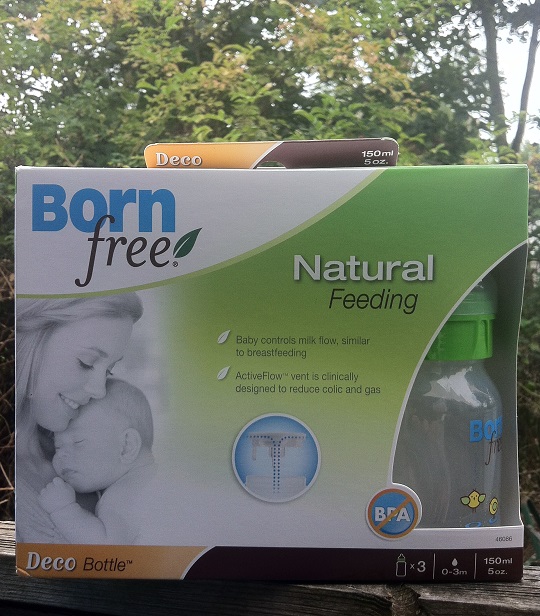 Hopefully, you'll be able to breastfeed your baby until they're weaned onto solids. That's what most of us would prefer. You may still want bottles though, for expressing so baby can have a feed with daddy or another important adult in their life. And to give mum a break.
But breastfeeding isn't always possible or the best option for everyone. So you may be bottle feeding all or part of the time anyway.
We received a set of three Deco Bottles from Born Free to try out. Born Free is a brand of baby bottles that are designed to allow baby to control the milk flow, and to also reduce colic and gas. Read on to find out more.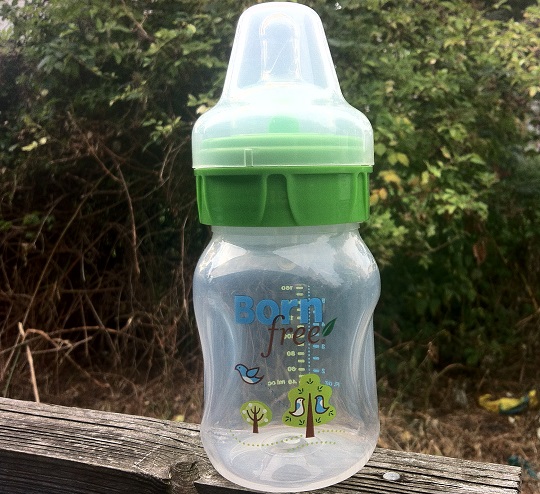 The Deco Bottle range starts at £5.99 for a bottle. We received the 3 Pack of 5oz bottles (£12.99) for 0 to 3 months. Each Deco bottle has a wide neck, and is made of BPA free plastic (also free of Phthalates and PVC) and as an air vent system, including an inner valve, to help reduce colic systems. It does this by reducing vacuum build up.
The bottles have dimpled sides, which seemed to be easy for our little tester (only 3 weeks old) to grasp. Not that she held the bottle on her own, but she seemed to really like having the grips there.
One design feature that the grown ups liked is the stopper inside the bottle. This covers the airflow from the teat, which means that when you fill the bottle up using powder formula, you can shake it without getting that gob of powder stuck in the teat.
The stopper was also used to make up some bottles in advance. It isn't on tight enough for you to carry the bottle about in your bag this way though. So don't do what we did, and go out with one in the bag, without first screwing back on the part that holds the teat (if you want to keep the teat separate, you can just take it out and screw the top on without it).
Our young tester hasn't had any problems with colic or gas, so we weren't able to really test it from that perspective. However, she did take to the bottle just fine even though it is quite a different shape to the usual bottle they use.
The bottle itself has extra parts to it, compared to other baby bottles. You need to take the air vent system out to clean and sterilise. This wasn't a problem, and it all seemed to clean just as easily using the steam steriliser we had for the microwave. For older babies, you may be just using the sterilising action of a dishwasher. I'm not sure how safe the vent would be to put in a dishwasher. However, according to the info that comes with the bottle, it is all dishwasher safe.
Overall, we had nothing to criticise about these bottles. It is a shame we didn't have a baby to hand who had problems with colic to try them out. But it did definitely seem like our baby tester had less gas when using the bottles.
Pros: good grip, air flow to reduce colic and gas, stopper, wide neck
Cons: as far as we could tell these bottles work well
Overall verdict: 9 / 10