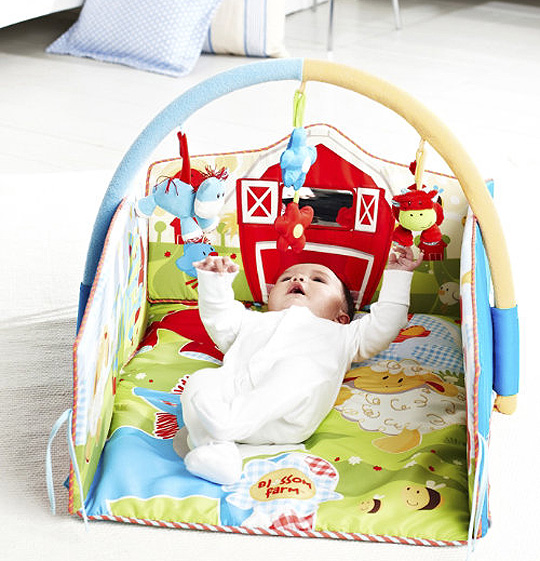 Mothercare are selling this Blossom Farm 2 in 1 baby gym for half price - £20 instead of £40.
Doesn't Blossom Farm just sound like an awesome place?  I often drive past a road called 'Paradise Lane' - it is a rather lovely lane BUT, even if it wasn't, it would still conjure up mental images of being...well, paradise!
The name 'Blossom Farm' is similar - it sounds lovely, as though every person and animal who lives there is always happy and content, and that's exactly the sort of images that make up the friendly scene printed onto the soft play mat part, and sides, of the Blossom Farm baby gym.
The play mat itself is large - three sides can be folded up to create a more enclosed environment, or they can be laid out flat for a larger play area.  When it's folded up a toy arch can be attached over the top, which features Blossom Farm residents Clover the cow and Cloppy the pony.  The arch also features two bright fabric flowers  and all of them jingle, crinkle, squeak, rattle and there's a baby-safe mirror for good measure too.
All three of my children adored their baby gyms and, for £20, this one is a lovely bargain.  In-store collection is free and standard home delivery will only cost you an additional £2.95.
Happy baby gyming!