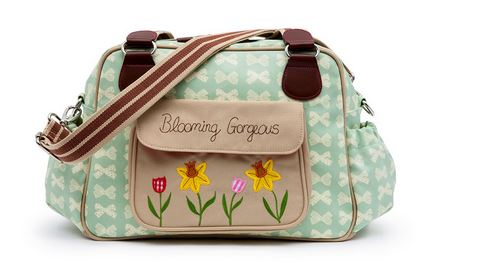 We know you love 'em so here is a lovely Blooming Gorgeous changing bag from Pink Lining for you, reduced from £79 to just £39.50, saving you the same again. Not too shabby. Delivery is free on orders over £50, so we miss out on that, making it cost you £44.45.
"A vintage inspired shape is the Blooming Gorgeous bag with a beautiful daffodil applique on the outside front pocket", says the blurb, and yes, that's pretty much what it looks like.
This bag features the Cream Bows on Peppermint print and is slightly wider than their other bag styles, so you have more room for all your baby bits and bobs.
On the outside you'll find a large canvas pocket and two fabric side pockets.
The bag comes with an adjustable shoulder strap that is long enough to fit over handle bars. There are two insulated bottle holders, two nappy pockets, a pen holder, a key fob - heaven knows how many times I've lost my keys inside my handbag! - a small zip pocket, a padded changing mat and and a wet zip bag.
All in all, you get pretty much your complete baby changing bag, just needing a few more bits to fill it.