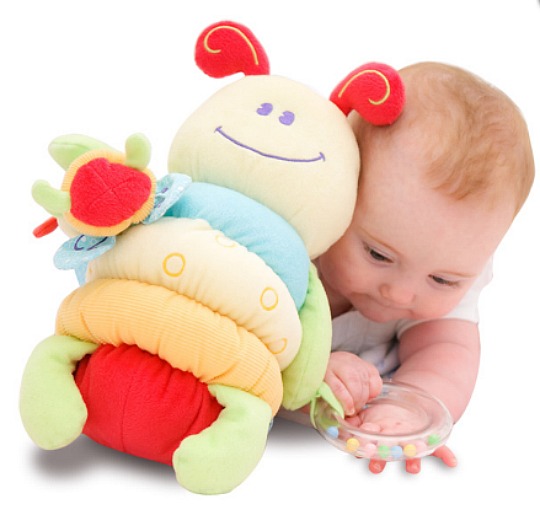 The Burble Bee Musical Activity Toy from Little Bird Told Me is ideal if you're looking for a gift for a special little someone.
Suitable for babies from birth, it's soft, huggable and full of fun activities waiting to be discovered. Burble Bee has mirrored wings which crinkle and his antennae rattle and squeak. And if you pull the little bee you'll hear a musical melody.
It measures 24cm x 31cm x 12cm which makes it a really significant size - it was bigger than my baby when we first took it out to play with! At £20, given its size, I think it represents pretty decent value for money. If I was looking for a gift for a new baby I'd certainly feel I'd had my money's worth after spending £20 on this.
In a world of garish, plasticky toys for babies and children, Burble Bee makes a refreshing change. The gentle colours and soft fabrics are appealing to the eye and pleasing to touch, and there are enough sensory elements waiting to be discovered to make this entertaining rather than just a regular cuddly toy.
One small drawback about this toy is also one of its most appealing features - its size. Although the packaging says it's suitable from 0 months, I found that my baby was a bit overwhelmed by this - so while it's a bonus that it's safe for use with newborns, I'd be inclined to recommend it for babies aged 3 months or older, and I imagine it will really appeal to tots aged six months and beyond.
Because of its shape and size it's difficult for a very young baby to do much with this other than look at it, and it seems as though it's just a bit of a daunting item to be faced with when you're barely much bigger than it!
Having said that, my older children absolutely adored presenting this to the baby, 'showing' her what to do with it, and making it play its musical melody in an effort to keep her entertained. So I'm certainly not saying don't give it to a very young baby - more don't expect them to engage with it very much for the first few months.
The melody is lovely and not the sort of thing that will end up driving you round the bend, and the crinkly wings, rattle and mirrored patches are all nice touches which will ensure it's a hit with babies once they're old enough to explore it properly.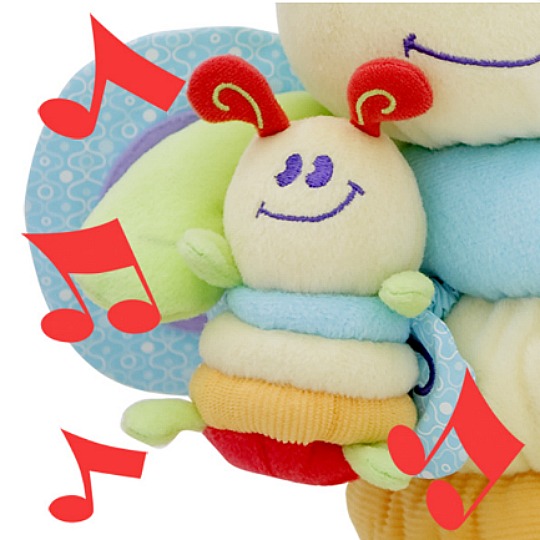 The only thing I'd change about this, given the chance, is the mirrored patches - I'd make them bigger so that they're easier for little fingers to get to grips with.
Above all it's a sweet little toy for babies which would work as a keepsake, and something I'd definitely recommend if you're buying a gift for a new baby or want to invest in a treat for a little one that won't break or drive you demented.
Pros: Good value for money, a great size, pleasant musical element and generally a lovely toy.
Cons: Size makes it perhaps a little overwhelming for little babies, and mirrored patches could be bigger for maximum fun.
Overall verdict: 8/10
Click here to buy online direct from Little Bird Told Me, and click here for details of your nearest stockist.