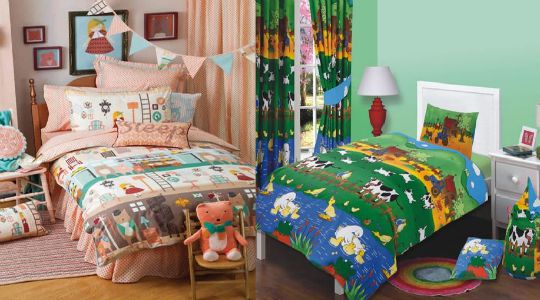 It can be false economy buying cheap bedding for the kids. Their bedding is washed the heck out of because they drool, puke, wee and sweat all over it. Tesco Direct have selected 100% Cotton Bed Covers reduced by up to 70%. This means you can snap up some great quality bedding for peanuts. We like this.... A LOT!
There are 16 different Children's Duvet Covers to choose from and they start from £11.20. There are a mixture of toddler, single and double duvet covers to choose from and they are all made from 100% cotton.
Check out these lovely sets: Farm Animals Toddler Bed Linen* was £14.95 now £11.20, Goldilocks Hiccups Single Bedding* was £34.95 now £13.98, Yeeha Cowboy Double Duvet* was £42.95 now £12.88, Out N About Double Duvet* was £42.95 now £12.88, Retro Dinosaur Double Duvet Cover* was £42.85 now £12.88 and Fairy Dress Up Double Duvet Cover Set* was £42.95 now £12.88.
You can Click and Collect your Children's Bedding order for FREE from a Tesco store near you or pay £3 to have it delivered to your front door.