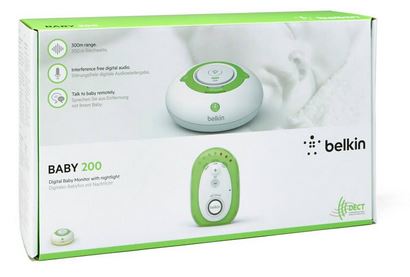 The Hut currently has a sale offer on the Belkin 200 Baby Monitor, which they're selling for a best-on-the-market £18.99. Unfortunately if you add the £1.99 postage fee for items under £20, it takes it to £20.98, which makes it more expensive than the £19.99 delivery at IWOOT and Zavvi. However, pop this in your basket and you'll find there's also a free EU/UK converter worth £9.99 added to your basket  - which brings you to over £20 and makes your delivery free. There's also an automatic discount applied, so your EU/UK converter is free, your shipping is free and you're getting the Baby Monitor with a night light and talk back features for £18.99.
The Belkin 200 Baby Monitor provides crystal clear, interference free monitoring with ultra reliable DECT technology and Hi-Definition sound.
It works with a range of up to 300m outdoors, and 50m indoors, and indicates if the rechargeable batteries are low, or you're out of range. As the name suggests, it also works as a nightlight and has the talk back option, so you can reassure baby that you're on your way, via the monitor. 
This also comes with a travel bag.