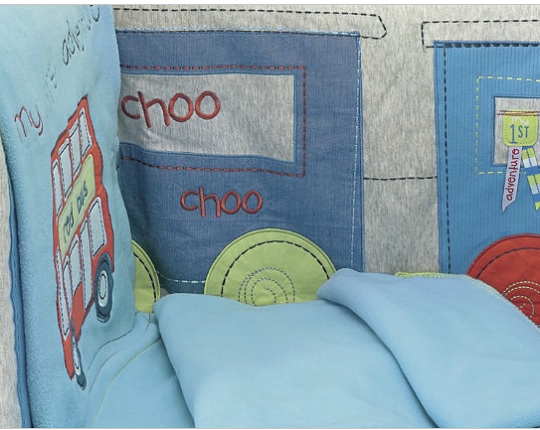 Dress your little man's cot from top to bottom with one easy Bed in Bag for just £56.99 at Mothercare. That's an incredible saving of £30 PLUS Mothercare offers free delivery anywhere in the UK.
This gorgeous blue 'My First Adventure' Bed in a Bag consists of a bumper, two flat sheets, one blanket, one coverlet and a fleece blanket. Best of all it can be used from birth to when your son graduates to a 'big boy' bed.
We all know that men are obsessed with trains, planes and automobiles and this fabulous set introduces your little guy to an interest that will last a lifetime. The stitching is of the highest quality and other mums tell me that it washes well. This is not the only design that Mothercare offers so either visit their site or pop into your closest Mothercare and check out their range of boys and girls bed in a bag. And with a saving of £30 every mom can transform her baby's cot into an adventure!