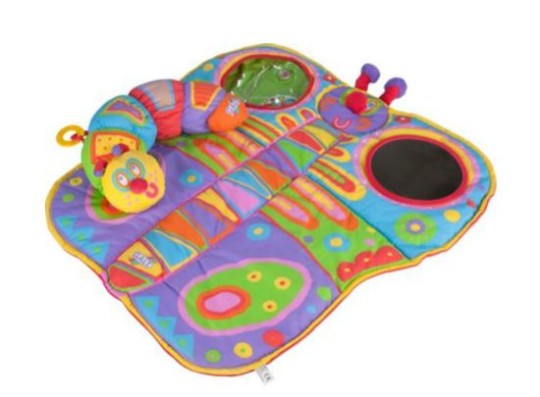 Argos have the Beanstalk Tummy Time Playmat reduced from £26.95 to £8.99, though it was previously on sale for £12.99. Even so, it's a great price. The only other place I can find this play mat is on Amazon for £19.99 excluding almost £5 delivery. I've had a look around and it's in stock in my three nearest stores but out of stock in two, worth checking your local?
I know not all kids do, my my girls loved their tummy time. We started them on it the day they were born, and they were both tummy sleepers - they would just lie there screaming and screaming on their backs - so tummy time and tummy mats were valuable baby equipment in our house. We never tried this one, but it does look like it has fun features.
I like that this has a detachable caterpillar that can become your child's bed time buddy and could probably work well as a neck pillow in the car too - don't quote me on that though.
Aimed at babies three months and over, the Beanstalk Tummy Time Playmat includes 2 toys which float in a water filled pouch, a large mirror, 'pingy' antennae and a furry nose. There's also a teether, rattle, squeaker and a crinkle pad.
Importantly, it's machine washable, and should provide a lot of entertainment.