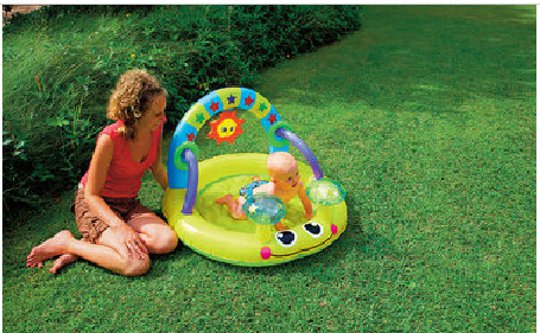 Argos Ebay Outlet is selling the Beanstalk Baby Play Centre brand new and with a 12 month warranty for just £4.49, plus 99p postage, bringing it to £5.48.  They're £12.99 at Amazon, and even second hand sales sites have them listed around £5 excluding postage.
No, that's not a new year's resolution, per se, but the Beanstalk Baby Play Centre is a bright and sunny plastic blow up contraption that pumps up really easily, according to Argos reviewers. It has a dangling sun and a smiling face to brighten up the day.
The Beanstalk Baby Play Centre is basically a multi-function activity centre, with dangly bits, moveable bit s and noisy bits, with a pit for sitting in. This can be filled with water, balls or as one reviewer suggests a blanket and toys, making it incredibly versatile for indoor and outdoor use.
The play centre is dispatched within 24 hours and is suitable from about 9 months – or I suppose when they're sitting up on their own?
Inflated, the Beanstalk Baby Play Centre has a 95.25cm diameter and reaches 61cm in height.
Thanks to Cati at HUKD