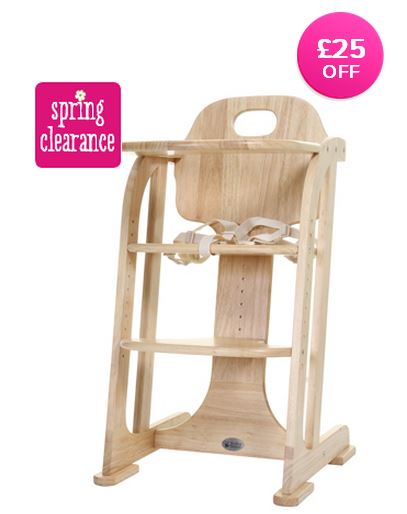 Kiddicare have a sale - a spring clearance - with up to 75% off and there are loads of bargains to be had. One of those is the Baby Weavers Wooden Multi Function Highchair for £44.99, reduced from £69.99.
We paid £69.99 for a hideous plastic high chair with the biggest foot print ever five years ago. I don't know what we were thinking. It took up a huge chunk of the living room and I tripped over it a hundred times a day. I couldn't wait to get rid of it and when we replaced it with a booster seat, I felt like we had a new room. (This is a slight exaggeration... but only a slight one.)
This multi functional highchair is suitable for children from 6mths of age right through to 10 years. Once your child is older it can be used without the tray which enables your child to eat at the table with the family, like in a normal chair.  The footrest is also removable which helps with extending it's life. 
The high chair is made from solid rubberwood with a natural finish.