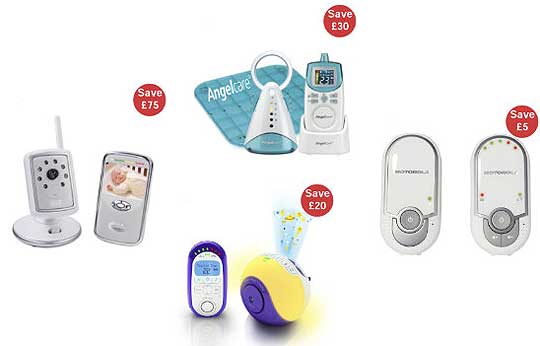 If you're in the market for a baby monitor then you should pop over to Mothercare - they have applied various discounts to a number of monitors, ranging from the nice and simple at one end of the baby monitor spectrum to full-blown digital video monitors at the other.
I know some parents who can think of few things worse than having a baby monitor of any kind; I know others who wouldn't be without one, but only the simple sound and lights kind, whilst I also know mums and dads who prefer to have the extra security of a sensor mat to monitor their baby's movements, and breathing, and alerting them when this fails to happen for a certain length of time.
As a parent of three children, I've used both the simple and sensor mat baby monitors and can highly recommend them both - although, if you feel a sensor monitor may make you paranoid rather than offering you peace of mind then perhaps go for something simple.
If just hearing your baby isn't enough and you want to be able to see what they're up to in their cots or moses baskets, then you can choose a video baby monitor.
Prices for simple sound and lights monitors start at £24.99 (rrp £49.99), £74.99 for a digital video monitor, right up to £139.99 (rrp £199.99) for an all-singing, all-dancing video and movement sensor monitor if you want to cover all baby monitoring bases!
In-store collection is free on all monitors and the more expensive ones also have free home delivery too, otherwise delivery will cost you an additional £2.95.
Happy baby monitoring!